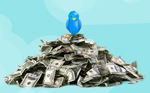 So last Friday (10-10-10)* I was at the bank drive-through listening to Nora Jones and waiting for a receipt on my deposit.  After a while I realized that I'd been sitting there for quite some time, and I looked over through the window and saw about 10 bank employees huddled around my money looking at one bill very suspiciously.  There seemed to be a lot of discussion, and nobody would look at me.  I was starting to get paranoid and wondered if I should drive away, except that I knew that they knew where I live, and I didn't want to appear suspicious.  Inside customers were beginning to stare and point at me.
Finally, the head bitch-in-charge—the teller who ratted me out was probably hiding in the ladies room—informed me that I'd given them a counterfeit $20 bill and would I please make out a new deposit slip for $20 less; they were giving my twenty to the FBI. 
 "Are you going to report me to the FBI?" I asked the HBIC.
"No," she said unconvincingly, "this is just standard procedure."
"How often does this happen?"
"Not very often."
"Can I just have the twenty back so that I can use it at Starbucks frame it?"
"No."
The HBIC wasn't being very nice, and I really wanted to go all New York City on her, but I didn't want her to have anything else on me to report to the FBI.
"Don't I get a receipt or anything?" I asked.
The HBIC sighed heavily and wrote down on the back of a deposit slip that that she had confiscated a counterfeit $20 bill from me. Then she signed her name and dated it.  It wasn't very official looking, and her handwriting was awful, but I didn't say anything.
Then I call Papa all pissed off.
"WHAT. THE. HELL?!  You gave me counterfeit money!"
"I did?"
"YES. YOU. DID.  The feds are after us now."
"Did you mention my name?" Papa doesn't like the feds. They make him nervous. In college he had a run-in with a policeman who pulled him over for speeding and then discovered a gun in the car.  It was a Civil War pistol that had belonged to Papa's grandfather, and it didn't work, but still it landed him in the pokey. Since then he has taken extra pains to keep his nose clean.
"Damn straight I did!"
None of this would have happened if he had done the normal thing and written me a check.  What is it with old men and cash anyway?  I'll be at the grocery store ready to swipe my ATM when the old dude in front of me is counting out $21.78 in dollar bills and pennies at the speed of a tricycle on the interstate. 
After I talked to Papa, I drove straight to my computer where I got on Twitter to brag about being an outlaw. After recently reading Scary Mommy's post on Twitter Etiquette, I realized that that most of my tweets are pimps. For you non-tweeters, that means I've been shamelessly self-promoting my blog, which is what happens when you're a fledgling once-a-week-posting blogger who never has anything to write that's less than 141 characters. But I thought I could do this story with limited characters, so I tweeted, and my new BFFs tweeted back:
JennyBeansBlog Wondered what was taking so long at the bank drivethru when I noticed 10 people around my $. I had a FAKE 20! They're sending it to the FBI!

 

MidwesternMamaH QUICK! Get rid of that printing press in your basement. 
JennyBeansBlog What?! I have a basement?! Holy shit! I thought the press was in the attic! 
IamthePeachy1 Sometimes I think just knowing you guys means homeland security is going to kick in my doors.
JennyBeansBlog My great-great grandfather rode with Jesse James. No shit. The governor pardoned him. My family is bad news!
LilMissRysMama More like bad ass! Haha, that's totally awesome! In a law-breaking citizen type of way…
sharmstro #FF or else! => @JennyBeansBlog: her great-great grandfather rode with Jesse James.
I'm prone to poetic exaggeration—it's a Bean thing—but the part about my great-great grandfather and Jesse James is not fiction.  It really happened. 
In the days after the Twitterlog, I picked up another 20 followers from Shanon's Follow Friday tweet.  I figure they cost me about a dollar a piece….  I guess that's how people buy followers.
Addenda
1)      Papa says that next month he's going to pay his rent in $1 bills because those don't come in counterfeit.  (I can't wait to see the look on the HBIC's face.)
2)      This is at great personal sacrifice because Papa likes to buy his groceries with his $1 bills so that he can tell the cashiers he's an exotic dancer.
3)     Papa also tried to charge me a $5 fee for blog/Twitter material.  I threatened to go up on his rent.  He hasn't mentioned it since.
4)     I don't know what month it is.  Yes, I'm losing my mind. Thank you, Amy, for pointing it out. :o) Turns out that this happened on 9-10-10.