Guest post by Papa in response to Little engineers, yogurt catastrophes, ghosts and private investigators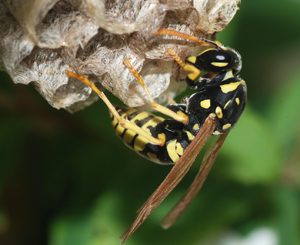 I ignored the wasp nest under the eve for a long time.  Then one day I looked up, and there it was as big as Dallas.  Those guys had been working their little sharp needle asses off.  Someone had to move, and considering the housing market these days, it needed to be them. Besides we have seniority at Masion Bean.
Papa doesn't do chemicals, so mechanical extraction was the only way to go.
I explained the situation in detail to Jax.  This was a manly project, and we do manly projects together.
"Papa is going to knock down that mean old wasp nest.  Jax, remember, those wasps have big stingers on their tails."
Nodding his head, he said gravely, "Yes, Papa."
"If one of those guys stings you, it's like having fifteen billion shots all at one time, so you have to stay in the house. Okay?"
"Okay, Papa, but what if one of them stings you?"
"Papa is fast as the wind, and he's going to run back into the house. Your job is to open the door for Papa. Okay?"
"Okay, Papa. But what if one of them gets in the door and stings me, Papa?"
"Listen, kid, Papa's got this project under control. You just stand back behind the door and watch the old man work."
I'm telling you, folks, I took those wasps on man to man. . . with a ten-foot long stick.  Standing on the edge of the porch, I knocked those suckers off the house with the first swing. It was a homerun and the wasps were swarming.
They were everywhere.  Loud and pissed off.
I turned around and ran to the door, but the little engineer had locked the damn door.
Three-year-old kids are not supposed to know shit like how to operate a deadbolt lock!
That was a year ago. The sting is gone now.  It's a damn good thing for his wild little blanket-toting ass that he's cute..