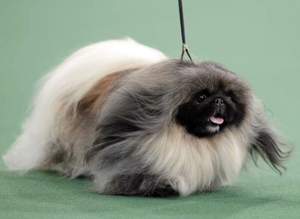 Competing against much larger and speedier breeds, Malachy, a diminutive 11-pound Pekingese, won this year's Westminster Kennel Club Dog Show, sending out a message to the world that the Pekingese is indeed the superior species.
Hyacinth, the author of When the Monarchy Crumbles, is also a Pekingese, but unlike Malachy, she is a bitch with an eating disorder, tipping the Bean scales at 22 pounds.
The Bean family is delighted to hear that the Pekingese has thus been recognized, and we send our heartfelt congratulations to Malachy and his family.  And we pray fervently that after the hullabaloo has died down, Malachy can get a much-deserved haircut.