Electronics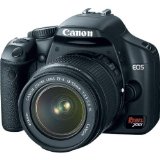 The Canon Digital Rebel.
  If you're ready to take your photography skills up beyond the point-and-shoot that you already have, but not ready for a tremendous investment, this is a great camera, and it's what I use.  When I bought it, a photographer I work with said, "RTFM."  [Read the manual.]  It really is a good idea in this case, and it your skills really are basic, take a community photography class. 

Several moms on a listserv of which I am a member recommended the
Flip camcorder
, so I got one, and it really is the cat's meow.  This idiot-proof video camera  captures 120 minutes of full high definition quality video on 8 GB of built-in memory with no tapes or additional memory cards required, and it's affordable.  You can't live without it.

The Sony BabyCall has 27 channels, and with all of the electronic gadgets we have today, you need one with a lot of channels to eliminate interference.  A friend recommended it to me, and when I went to BabiesRUs looking for a monitor because I bought a piece of junk at a more conveniently located store, the saleswoman told me that it was the one customers preferred.

Summer Infant Day & Night Handheld Color Video Monitor with 1.8″ Screen:  I like this product, but I'm not going to give it a ringing endorsement.  The reviews are mixed.  Some customers love it and others don't.  Mine was actually a hand-me-down gift (a friend had bought it to care for her grandmother and never had any success with it).  I couldn't get it to work either, and sent it back to Summer.  Summer was very nice.  They sent me a new one that worked like a charm.  Unlike the Sony monitor, this one doesn't have scads of channels, which means you very well could encounter interference.  It's a blast, though, to watch your baby in his crib playing with his toes, and it gives you a measure of comfort to know he's okay.

The Platex Embrace Breast Pump System was my second pump.  The first one I had was a cheap hand-me-down from a friend.  After two babies, this thing still works.  It's got a car charger which means you can use it on the go.  I'm not an expert on pumps, but this one was a great fit for me.  If you use the Platex bottles, which I did, it means you can pump directly into the bottle your baby will drink from.

I'm listing the Medela Freestyle Breast Pump too, because two of my friends raved about it.  It's a little more expensive than the Platex, but you can pop in some batteries, strap it on, and go to totally hands-free pumping.  If money is no object, you might also consider the Medela Symphony, which is supposed to be the Cadillac of breast pumps.  At $1600, it ought to be!

Why am I listing an alarm clock for baby gear?!  The Homedics SoundSpa Digital Alarm has something very important that you need–white noise.  (Actually, it's brown, but who's checking.)  The white noise machine that I bought from the baby mart was a POJ (piece of junk).  White noise allows your household to function somewhat while the baby is sleeping.  Don't go blasting your stereo, but you can leave your phone ringer on.

The First Years CD Player is another product with mixed reviews.  I liked mine well enough, but I can understand some of criticisms.  It is a pain to change batteries, but most baby products are like that now.  The volume isn't very loud, but it was loud enough for our purposes.  It is cheaply made.  But, hey, for $40-50 you can't expect a Boes stereo system.  The pros:  it attaches to your baby's crib and plays CDs, which is what I bought it for.