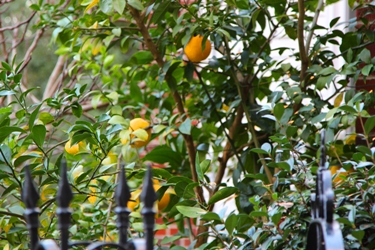 In the year 2005 BLB (before little Beans), Hyacinth and I made a road trip to visit Lillianna in Florida.  It was December and Lilli's big hound followed Hyacinth around like a love-struck puppy, and Hyacinth, who was demure in comparison and who couldn't as much tinkle without the big doofus underfoot, finally told him about himself, but the hound, who was a few French fries short of a Happy Meal (that was for you, Irene), did not get the hint, and Hyacinth had to be a bitch to him for the entire weekend.  Luckily, she is well versed in bitchiness.  Hell, she even wrote a post on it.
Anyway, Lilli and I saw two storks, and I took that as a sign that my upcoming IVF would result in twins.  Luckily, I had just one baby at a time, which is a good thing because I was shell-shocked with one colicky baby, and two babies simultaneously would have had me running for the funny farm.
On the way home from Lilli's house, I stopped at one of those souvenir gas stations off the interstate in St. Augustine.  Among the tacky made-in-China crap were citrus trees, and I bought a Meyer lemon for $9.99.  It was a little more than 2 feet tall, and I planted it on the sunny side of the house, and I babied it.  In the cold months during the occasional freeze, I draped sheets and blankets over it, and when spring came, I shoveled compost on it and later Papa started shoveling compost on it too, and when the bees came, I celebrated the pollination, and when the aphids came, I sprayed it with soapy water.  In the beginning it produced a few lemons, and in the last few years we've had bumper crops.
Meyer lemons are a cross between a conventional lemon and a mandarin orange.  They're very large, like an orange, and they're not quite as tart as a regular lemon, and you can even peel them like you would an orange.
The lemons start getting ripe in November and we usually have them through January.  If we get a freeze before then, we pick the fruit and keep it in the garage.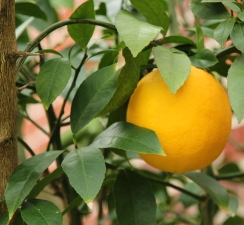 And what you ask, gentle reader, does one do with that many lemons?  We have hot toddies, lemon margaritas, tea with lemon, salmon and lemon, lots of lemon water, and for my birthday, I made a lemon curd cake that we dusted with fresh coconut.
And one of these days–maybe even this weekend, I'll finally make lemonade–but just so you know, when life gives you lemons, you don't always have to make lemonade.