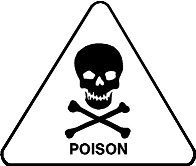 When Hyacinth ate a whole tub of brownies, the emergency vet advised me to induce vomiting. So when I discovered Moose crying on the counter with one of his water bottles in hand—a water bottle that was being disinfected with a bleach solution—I immediately stuck my fingers down his throat until he hurled the contents of his stomach.
Moose was not happy. Then he threw up some more.
Papa and Jax sat oblivious in Papa's den—Papa with his earphones in, watching Rockford Files on Hulu; Jax with the iPad, watching Scooby Doo.
I scooped up Moose, left the couch potatoes in oblivion, grabbed the phone and called the after-hours nurse.
I got India.
"My baby just ingested Clorox. I need to talk to an American."
India transferred me to poison control. Poison control is an American woman. The AW asked me what happened.
"My two-year-old crawled up on the counter and drank from his water bottle, which was being disinfected with a bleach solution. He's not dumb. I don't think he drank much. I made him throw up."
"Oooh, don't do that."
WTH?!
"I'm not doing that. I did that."
"What's his name?"
"Moose Bean."
"Moose Bean?"
"Actually, it's William. We call him Moose."
I could hear the AW typing, and I was afraid she was going to report me to the FBI.
"Where do you live?"
"Buffalo, New York," I lied.
"Buffalo?! You have a Southern accent."
"That's because we live in the southern part of Buffalo."
"Okay. He's going to be fine. He may have an upset stomach. Just for the record, we don't induce vomiting anymore."
By this time, Moose had decided he was hungry, so I gave him a big bowl of vanilla ice cream with sprinkles, and that was that. (Ice cream is a Bean cure for many of life's mishaps.)
Papa and Jax are still oblivious, and I'm now on a plane holding a brown bag trying to get through some turbulence on my way to BlogHer, and Papa and Mimi are at Maison Bean with Jax and Moose.
Scary.