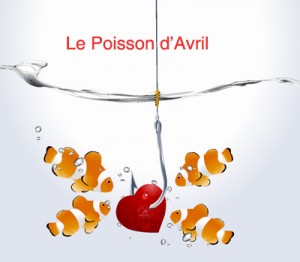 It was a joke—an April Fools' joke, and the response to the 814-word post was an eye-opener. 
I always try to keep posts under a thousand words because I know that people who are reading websites don't want tomes.
When Papa first read the post prior to publication, he said, "But Sylvia and I didn't break up."
"JUST. KEEP. READING." I said.
When he finished, he was not happy.  "You got me again."
Papa is a sore loser. 
The first indication some readers hadn't read the entire post came when Papa's cell phone started ringing off the hook at 6 a.m. It seems that the Geriatric Women's Club (GWC) has been following my blog, and three quarters of them are widowed and looking for love, and on April 1, Papa was the hot prospect.
After the GWC ladies started calling, Papa began screening his calls.  Then his friend Paddy called.
"I'm sorry about you and Sylvia," he told Papa. "But what were you thinking?"
"Paddy," Papa said, "The whole thing was a ruse—an April Fools' joke.  Moose didn't get kicked out of school and Jenny isn't pregnant.  Jenny just goes a little crazy on April Fools' Day. That's all."
"Yeah," Paddy said, "but when did you and Sylvia break up?"
Then there was the email from Jolie in Ireland congratulating me on my pregnancy. 
"You didn't finish reading," I emailed her back.  "It was a joke.  A bad one at that.  If anything you should have been offering condolences."
"I couldn't finish reading," she wrote back.  "I fainted from shock."
Lillianna is so mad at me that she's not taking my calls.  And Papa has been on Facebook trying to do damage control because apparently there are some people out there who believe that he was carrying on an illicit affair with the fictional Widow Greenberg.
Of the people who realized they had been duped (i.e., those who read the post to the end), there was Rita who started planning to make baby blankets for the little unborn Beans.  There was Nicole, who made me laugh when she wrote, "Good lord, woman. Just about peed myself."  And there was Betsy, who may not be able to think of a joke (that isn't too mean), but she sure does know how to give life lessons that resonate.
For the record:  Moose doesn't know the word "shit."  Not yet anyway.  He has not been kicked out of school.  There is no Widow Greenberg or anyone in the neighborhood resembling her.  I made that up.  Even by Bean standards, that story is outlandish.  Papa and Sylvia are still dating.  I am not pregnant.  The ultrasound was a public domain photo that I put my name on and Photoshopped so that the babies wouldn't be recognized [that's a joke].
The really strange thing is that although there's no make-up saleswoman in the Bean neighborhood and certainly no Widow Greenberg, I discovered a tube of crème de nuit in the boys' bathroom.  I'm not sure if it belongs to Papa or his friend Mr. Bob who spent a few days and a few bottles of wine with us recently.  Or maybe it belongs to the ghost of Emma Louise.
Notes:
The women were out in full force on April Fools and Papa made a killing at the Ladies' Club.
This post was 574 words.  Did you make it to the end?