Vodka: Papa recently discovered a high-end vodka that's $20 cheaper than Grey Goose and reputed to be just as good.  Never one to pass up a deal, Papa was convinced after the first martini that it was just as good as the Grey Goose.
"You only like it because it's cheap," I told him.
So Papa decided to let Mimi, who knows good Goose, decide if the cheap brand was just as good.  In a blind taste test, Mimi nailed the Grey Goose on the first taste test… and in the 13 subsequent taste tests that Papa subjected her to.  Finally, I drove Mimi home.  I returned and found Papa pouring the cheap stuff into a Grey Goose bottle.
"Don't worry," he said, "I'm going to add a little water to take the burn out."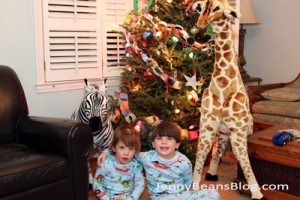 Santa:  Santa brought Jax and Moose a very large giraffe and a very large zebra.  When Papa, who had consumed his fair share of eggnog, discovered them, he almost went into cardiac arrest.  And then there was poor, poor Rooster, who stays confused, and whom we caught making sexual advances to the zebra's leg.
Fric and Frac:  On Wednesday, Papa rode his bike to the cancer center for his infusion.  Later that day, Belle came to sit with him, and realized upon arrival that she'd locked her keys in her car, so she called Sissy to bring her an extra key.  Because Sissy was driving Papa's SUV, they decided that she would go ahead and carry the bike home and Belle would chauffeur Papa.
When Nurse Brenda saw Belle scurrying away, she asked Papa just how many daughters he had.  "Well, there's Jenny," he said, "and then there's Fric and Frac."
"Fric and Frac?" Nurse Brenda asked.
About that time, they heard a cacophony of blaring horns and a police siren.  When Nurse Brenda looked out the window to see what was going on, she saw Lucy and Ethel, aka Belle and Sissy, aka Fric and Frac, blocking both lanes of traffic as they tried unsuccessfully to put the bike on the bike rack.  Traffic was gridlocked, and two university campus officers with blue lights flashing were on the scene trying unsuccessfully not to laugh.
Bandaids:  I followed the Portia rule—no Bandaids unless you're bleeding—until pushover Mimi mucked everything up, and then I decided that Bandaids are a lot cheaper than tantrums.  So Moose has this Bandaid fetish and he climbs up on the toilet, opens the medicine cabinet and grabs a Bandaid and goes in search of someone to affix said Bandaid to various body parts…. Oftentimes he wants his big toe bandaged, and after it's on, he limps away very convincingly.