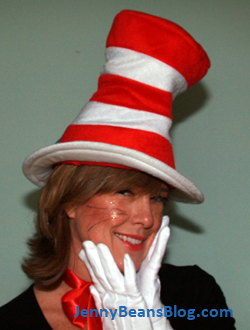 If you've joined the 21st century, you no longer write checks. You don't even know where your checkbook is. You don't even like people who write checks, namely because you're always in line behind them waiting interminably while they do it.
If you've joined the 21st century, you rely heavily—probably too heavily on your debit card—and that can mean disaster if it expires.
A debit card with an expiration of October 2011 means that you have until midnight of Halloween to use your card. On November 1, you will need a new card.
When you have not received your new card by mid-October, call the bank.
The bank will say that it was mailed out yesterday and that it can take 10 days to arrive. You have no choice. You must wait.
By the 25th you will have forgotten that you're supposed to be closely monitoring your mail. To your knowledge, no plain white envelopes will have been received. It will be Halloween weekend before you remember that the 10 days have passed. Don't panic. Think disaster preparedness. Go buy booze. Fill up your gas tank. If you need a new pair of shoes, now is the time. Do not tarry.
Food, water, and lunch money are low on the priority list. That's what relatives are for. Halloween is, of course, a holiday. Enjoy it. On November 1, call the bank. Be nice—this is very important. If you complain, a disgruntled bank employee will likely make you go into your local branch and fill out a form to cancel the card that never came and place an order for a new one. If you're disgustingly nice, the bank employee will happily oblige.
Because you've been nice, you can rest assured that your card is now in the mail, but you have 10 days. Use this to your advantage: borrow heavily from various family members. Family members with early onset Alzheimer's make good targets.
Never announce the arrival of your new debit card, particularly if you were successful in your fundraising efforts. After the card arrives, immediately call the number printed on the sticker on the front of the card to activate it.
This can be tricky if you have more than one phone number and are inconsistent about which number you give out. The activation company has CALLER ID, and if you're not calling from the number on file, no activation will occur.
Until you've successfully used your card, make sure you have enough money on hand to cover your purchases. Say, for example, you're in the grocery store on your lunch break, and you've got $50 of juice boxes, cookies and chardonnay all bagged up and awaiting the premier swipe.
You swipe. You enter your PIN. You press all of the green buttons. And then the cashier says you've entered the wrong PIN number.
"What?!" you say in outrage. "I know that PIN number by heart. I've had it for 20 years. I've never entered it wrong."
And then the prepubescent kid behind you snickers, "Mom, her card doesn't work!"
Even if you don't give a shit what the prepubescent kid thinks, it's still humiliating.
If you enter the number again and it doesn't work, cut your losses. Dig out cash, and if you don't have that, find a credit card.
When you get back to the office, forget about everything your boss has put on your desk. Call the bank immediately.
The bank will tell you that you were supposed to reset your PIN number when you activated it. Because you obviously threw the sticker with the activation phone number away, ask the bank for that number again.
Call the number. Enter your card number. If it doesn't work, hang up and then call again. Enter your card number again. If it still doesn't work, call the bank again, and be nice.
Somehow this is your fault.
"What's your card number?" the bank will ask after verifying that you are who you say you are.
You read the number. She (the bank is always a she) says that isn't a number belonging to the bank. You look at the card and sure as hell, she's right. You're reading the number off of your medical spending Visa.
Locate the correct card. Call the activation number again. If it doesn't work this time, you may be calling from the wrong phone. Call your home phone and leave yourself a voicemail reminder to activate the card as soon as you get home. Make sure you read off the activation phone number, enunciating carefully.
When you get home, shake off kid, dog and geriatric greetings. You have a purpose. Check your voicemail and then call the activation number. Change the PIN number on your card. Hang up.
Go get yourself a glass of that chardonnay you bought at lunch. You deserve it. Unfortunately, there's still a chance your card doesn't work.