Confession: it wasn't really Hyacinth's fault that I didn't post last week…. It was Papa's.
I was kind of excited when I received the announcement that my doctor of 20 years had become affiliated with a VIP wellness program.
Visions of yoga classes, massages and botox danced through my head.
And then I read the fine print. Electronic medical records. Diagnostic testing. Wellness coaching…. FIFTEEN HUNDRED DOLLARS.
What. The. Hell?
It's called concierge medicine. With fewer patients, you're guaranteed more face time with your doc when you need it. Good deal? No. I don't go to the doc that often.
This is how I found myself without a doctor when I came down with bronchitis.

I called Heather's doctor. No appointments available for a month said the receptionist.
"I'll either be dead or over my bronchitis by then," I argued.
Papa suggested that I go to his doctor. Papa isn't as particular as I am about doctors, but what the hell—it was, after all, a simple case of bronchitis. I could find another doctor later.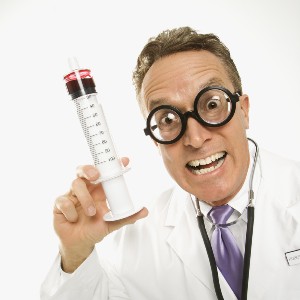 And so I went to see him. Bernhard Schmid. An Austrian doctor with an accent so thick he made Arnold Schwarzenegger sound like the Queen of England.
Schmid told me that I needed a mammogram (not something I've ever been able to generate any enthusiasm for), calcium and exercise (uh, when?). Schmid did not approve of a lot of things, and, apparently antibiotics were at the top of the list. He listened to my chest, said my inhale sounded great, but that there was a lag in my exhale that could mean COPD.
Chronic obstructive pulmonary disorder.
"Do you think I have COPD?" I asked.
"I don't know," he said.
And then he sent me on my way with a sample of Advair and a script for a boob x-ray.
The next day my bronchitis was worse, and I started having an anxiety attack. By the time Jax graduated from kindergarten, I'd be in a wheelchair lugging around a supersized tank of O2. I was a wreck. I started crying.
I called Kate's nurse. Kate is the friend of a friend, an internist in practice with my old doctor. Word on the street was that Kate was going into the hospitality industry too.
Kate gave me a hug, said she was not defecting. She would take me on as a patient. She listened to my chest, told me that I did not have COPD. Then she gave me an antibiotic and a script for a chest x-ray (just to be safe).
Since I was going for the chest x-ray ($75 copay), I decided to have the boob x-ray (free) done at the same time, and while it's not on my list of exciting things to do, the boob x-ray was not as bad as I'd heard.
After a dose of antibiotics and 24 hours, I felt much better. Schmid's office called to say that my boobs were normal, and then I drove to the lab for a copy of my chest x-ray report because I couldn't wait on Kate's phone call. And while I didn't go to medical school, I knew when I read "unremarkable x-ray" that all was okay.
I've never thought I'd see the day that I was happy to be unremarkable.
When I recounted the story to Mimi, she chastised me.
"You should know better than to use a doctor that your father goes to," she said.
"Quack, quack," I replied.