Note:  Hyacinth ate my post, so I'm resurrecting a post I wrote for Scary Mommy in April.  In the meantime, get ready for a BlogHer recap–it's on the way!  XOXO, Jenny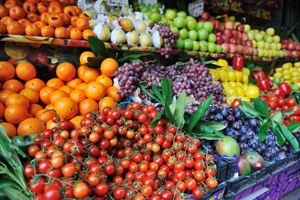 ACT I
9 p.m., Wednesday, Maison Bean, Jenny's boudoir. A telephone is ringing.
JB: Oui allô.
Mimi: It's me again.
JB: I know.
Mimi: I've got three things to tell you. One: have you noticed that Moose has a runny nose? Two: Jax has a haircut tomorrow afternoon. Three: There was a sign-up sheet outside of Jax's class. Something about fruit.
JB: Ohshit. Tomorrowisfriendshipfruitsaladday. I'msupposedtotakegrapes. Wedon'thaveanygrapes.
Jenny jumps off of her bed, pulls out a pair of jeans and a sweatshirt from a pile on the floor and throws them on over her nightgown.
ACT II
9:15 p.m., the grocery store parking lot. A silver Honda sedan swerves into the parking lot narrowly missing a stray shopping cart. The apparently insane driver stops the car, blows the horn and cusses the buggy.
ACT III
9:17 p.m., inside the grocery store.
Jenny, a disheveled mom in jeans and a sweatshirt, rushes into the produce section. She walks around in circles for five minutes searching for something. Finally, she spies green seedless grapes. Seeing the grapes are on sale, Jenny jumps in the air and high fives an imaginary produce manager.
"YES!" she says.
Grapes in hand Jenny heads for the wine section where she looks at chardonnay on sale. Jenny picks up a Rodney Strong for $9.99 and heads to the checkout. She is beginning to feel good about life again.
ACT IV
9:24 p.m., the grocery store checkout.
Jenny looks around confused. Two checkout lines are open and the u-scan.
Jenny loathes the u-scan. If she has to scan her own groceries, she wants a discount. She stands in line behind a woman making a very large purchase. Most of the woman's groceries are bagged. Her transaction will be completed soon.
Jenny begins reading the tabloids. Tom Cruise and Katie Holmes are being destroyed by an FBI probe. Allegations of slavery and misdeeds have been lodged. Jenny wonders why poor Katie ever married Tom and becomes engrossed in their steamy saga.
ACT V
9:35, the grocery store checkout.
Jenny finishes reading the Hollywood trash, shakes her head and remembers she's in line at the grocery buying grapes and wine. She looks up. The cashier is scanning a very large pile of coupons.
Irritated, Jenny begins tapping her foot. She looks at the customer's back and tries to bore a hole with her stare. The customer refuses to turn around and meet Jenny's stare. Clearly, the customer is accustomed to ignoring angry looks.
The cashier finally tallies the sale.
The customer has a qualm with the amount.
"Of course," Jenny mutters.
A manager is called. Jenny is beginning to fulminate. She looks around. The u-scan is crowded and other line has grown even longer.
The manager arrives and tells the cashier that only 20 coupons are eligible for double coupon savings.
The cashier begins counting the number of coupons.
"There are a helluva a lot more than 20 in that pile," Jenny says.
The customer and the cashier ignore Jenny, and the cashier continues counting the coupons. There are 46.
"See. I told you," Jenny says.
The customer, oblivious to the inconvenience she is causing, instructs the cashier to remove all items that are not eligible for double coupons from the sale and to remit the unused coupons.
Jenny lets out an agonized groan and moves to the u-scan where she waits in line for eight minutes.
ACT VI
9:54 p.m., the u-scan.
Trying to restore her faith in humanity, Jenny adds a last minute item to her purchase—a Reese's. The transaction takes exactly one minute and 15 seconds.
As she is leaving, Jenny notices the coupon customer and the cashier still haggling things out. Then she sees the manager.
"You've got some real crazies in here this evening," Jenny says.
The manager looks pointedly at the hem of the Jenny's sweatshirt. "Indeed," she says.
Jenny looks down and notices that her pink nightgown is hanging out from underneath her sweatshirt.
It just isn't her day.