I have a morbid fear of critters. 
MORBID.
So last year when I began hearing reports about the resurgence of bed bugs, I started to freak out.  Papa was going on his Annual Geriatric Cross Country Bike Ride, which, if you factored in that he was staying in third-rate motels (75 percent) x 30 days of exposure, there was a 2,250 percent chance (Bean math) that he would return to Maison Bean with bed bugs.
I showed Papa pictures of bed bugs, pictures of bed bug bites. I lectured on bed bug proliferation.  I showed him the Bean math and a draft of my Bed Bug Crisis Plan.  As crotchety as Papa can be, it was amazingly easy to convince him that this was a real threat to the well being of the Bean household.  This is because a) Papa also has a morbid fear of critters, and b) the time and expense to exterminate bed bugs is interminable and considerable, and Papa doesn't like hassle, nor does he like check book assault [read:  Papa is cheap, which is why he was staying in third rate motels in the first firetruckin' place].
The Bed Bug Crisis Plan
Papa would pack a light, disposable travel bag.  He would also pack a separate change of clothes that he would leave in his car in Alabama (the starting place for the ride) as well as a gas can.
When Papa and his cronies arrived in New Mexico (after 1,800 miles, 23 bottles of vodka and 32 nights of bed bug exposure), he would fly back to Alabama where he would strip naked in his friend Bill's driveway, and he would douse all of his riding gear with gasoline and ignite. 
While the riding gear went up in flames in Bill's drive, Papa would sprint inside to the bathroom where he would take a scalding hot shower and scrub with borax.
For good measure Bill would hose him down in the backyard with a can of Raid. 
Papa would then don the clean clothes stashed in his car and commence the 8-hour drive to Maison Bean.
The plan worked.  Unfortunately, friends who have subsequently planned to visit Maison Bean have not been receptive to the idea of a similar bed bug protocol.  Not to be deterred Papa and I bought a Thermal Remediation Devise online.  The trick is to thermally remediate the luggage of unsuspecting guests while Papa plies them with cocktails and regales them with stories of the Ladies Club.  So far, we haven't had an opportunity to put the TRD to use. Strangely enough would-be visitors have suddenly changed their lodging plans.
Since we haven't been anywhere and no one has visited us, I haven't worried about the possibility of an infestation… until Saturday when Aunt Belle was helping Mimi and me clean the house.
"OhmyGodJaxhasbedbugsinhisroom!" Belle screamed.
She scared the shit out of me.  And Mimi.  We went running in Jax's room.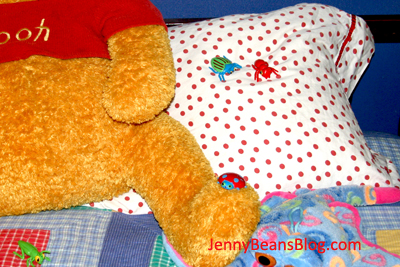 Mimi and I both glared at her.  Belle has a wicked sense of humor.
Addenda
1)      If your vision is bad, the joke is probably lost on you.  Those are plastic bugs on Jax's bed.
2)      Bean Tip of the Year:  If you're staying in a hotel, you may want to check out the National Bed Bug Registry before you book your room…. If you're going to BlogHer in August, there have been no reports of bed bugs at the San Diego Marriott Hotel and Marina.