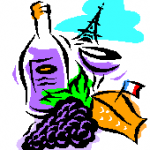 When I first saw Pierre, it was love at first sight. He's a kind of husky guy with light brown hair, an olive complexion, big dark brown eyes, and chipmunk cheeks that beg to be kissed. For the most part, he's an affable, easy-going kind of guy, except that like most French men, he's a little grumpy when he's hungry.
"Will you feed him for me?" Caroline asks.
I look at her like she's lost her mind. "Miz Caroline, Miz Caroline, I don't know nothin' bout feeding no babies!"
Caroline (pronounced caroLEAN) tells me to practice positive thinking.
"But this is not in keeping with the image I try to cultivate. Besides, it's not exactly something I can put on my resume."
Caroline just looks at me.
"In the States we have nannies to do this sort of thing."
Caroline, who has lived in California before, knows that this is not as common as I would have it seem. She ignores me and hands over the baby food and a spoon.
"What is this?" I ask, opening a jar of jambon et tomates (ham and tomatoes). "It smells ghastly! I thought you French people started your babies on puréed escargot."
Finding myself with a few days off and an unused train ticket, I had taken the train to Brest to visit the Gallards for a little home cooking and a spot of grass to sit on. The only grass in Paris is in the parks, and most of the time, it's roped off so that you can't sit on it, and if you can sit on it, you don't really want to because of the overwhelming population of dogs—you will probably find yourself sitting on something else besides grass.
Brest is a naval port in the region of Bretagne (Brittany), which is on the Atlantic coast, about four hours west of Paris by the ultra-fast, TGV train. During World War II, Brest was completely destroyed and today you can find German bunkers along the coast. Brest was rebuilt quickly and practically and looks somewhat stark for French standards— except, of course, for the Château de Brest, which is a castle built from the 12th to the 17th century on a third century Roman fort and is now the maritime prefecture and the place of the naval museum.
A popular sailing spot, Brest is the home of Olivier de Kersauson, who just arrived home from his around the globe sail in a record time of 71 days, 14 hours, 18 minutes, and 8 seconds, which won him the prestigious Trophée Jules-Verne.
Nearby in the quaint village of Plougastel is a wonderful crêperie in a rustic old farmhouse called An Ty Coz. Crêpes, thin pancakes of flower, eggs, milk, and butter, were the food of the peasants and are served here in a variety of delicious ways—with ham and cheese, with scallops in a mouth-watering white sauce, with chestnut sauce, flamed with bananas and rum, or simply with butter and sugar.
Close by, too, is the town of Quimper, famous for Faïence de Quimper, exquisitely painted pottery that caused quite a hullabaloo at Christmas among some very unsympathetic people at an airport (whose name I will not vilify in print) when I tried to carry too much of it on the plane (I think I was also toting my computer and a few bottles of wine along on the trip).
Brest is also nice to visit because the Gallards are there. Twice now they have housed and fed me very well with good French home cooking. Laurent, husband of Caroline, and I have bonded over an aperitif, and Caroline taught me to make an apple tart.
Now she's teaching me how to feed a baby, and I've learned three things: Simply telling the kid to open his mouth does not work. He doesn't understand English (or French for that matter). You must open your mouth excitedly as if you are about to devour the jambon et tomates with gusto. Oddly enough, the baby will imitate this ridiculous expression and this is when you shovel in the grub.
Second, if there's a cat in the house, put it out. The baby finds it far more fascinating than you and the jambon et tomates.
And third, if the baby looks at all like he may sneeze, get out of the line of fire! Jambon et tomates is not a color you want to be wearing.
Note: as you have probably already deduced, unless you are new to JennyBeans (and then you probably don't know what the hell to think), this post was written BLB (before little Beans). The year was 1997, and I was completing a year in Paris where I was teaching English in a French university.
Hopefully, I'll find a little peace this weekend and a little inspiration so that I won't have to resurrect an old travel story next week.