Preface:  Before the arrival of the little Beans, I had preconceived ideas about parenting.  My children, a boy and a girl, would be beautiful, precocious, obedient, witty and charming.  Their rooms would be immaculate; their behavior, beyond reproach; and their manners, an example for all.  We would not have tantrums, black eyes, or finicky eating habits.  The little Beans would be worldly and well rounded.
I was so convinced of my superior parenting skills that I presumed to pass judgment on other people, who, in fact, were already parenting.
"Such-and-such is a bad parent," I once told my friend Heather.
"Don't ever say that," she told me.  "You haven't walked in her shoes."
Heather is wise beyond her years.
With the arrival of Bean 1 came colic, temper tantrums, snotty noses, defiance, and chaos.  My initiation was fast and furious.  And crazy me, I thought, what the hell is one more?  I'll have a girl the second time and life will be harmonious.
I swear to you, gentle reader, I was NOT smoking crack.  And then came Bean 2.  Moose is a posterboy for baby straight jackets…. I bought a leash, baby proofed for a tasmanian devil, and still life unraveled at the seams. 
All of my fairytale ideas about children and parenting dissolved in the chaos, and I began every day on a wing and a prayer, which leads me to my current story.
It was Saturday afternoon, and Wendy called to brag that she'd beaten me at Scrabble.  I hadn't been beaten at Scrabble by anyone in a long time, and I wasn't too happy about it. 
Beans are sore losers, which is why Papa refuses to take part in any games in which I am competing.
Bean 1 and Bean 2 were playing together sweetly, and my talk with Wendy migrated from Scrabble to her shock when dear Uncle Paulie bent under the kitchen sink to fix a leak. 
"What's a little plumber's butt in the family?" I asked.
"No, no, no.  That's not it.  He was wearing women's underwear."
Uncle Paulie is a 78-year-old widower.
"Are you sure?"
"It was gold and black lace."
Holy shit!
The black cloud of the lost Scrabble game lifted. A 78-year-old man wearing gold and black lace panties was too funny not to laugh, and I had vicariously witnessed it.
When I got off the phone, it was past nap time, and I went to Jax's room to find Moose.
"Where's Moose," I asked.
"I don't know."
"I thought he was in here playing with you."
"No."
So then I went into my room.  No Moose.  I went into my bathroom.  No Moose.  I went into Moose's room.  No Moose.  I went into the room Papa calls his office.  No Moose.  Then I went upstairs to Papa's man cave with the beyond ugly recliner.  No Moose.  I looked under the bed.  No Moose.  I looked in the closet.  No Moose.  I looked behind the beyond-ugly recliner.  No Moose.  I searched the attic.  No Moose.
I ran back down to Jax's room.  "Are you sure you haven't seen Moose."
"No, Mommy."
I looked outside in the backyard.  No Moose.  I looked outside in the front yard.  No Moose.  I wondered if maybe he'd fallen asleep somewhere.  And then I went through the whole route again, screaming his name, this time with Jax following me and calling his name too.
No Moose.
Then I grabbed the phone and called Papa.
"You need to come home right now.  I can't find Moose."
"What do you mean you can't find him?"
Leave it to Papa to ask a dumbass question like that when there's an emergency.
"I. CAN'T. FIND. HIM."
It must have been my tone because this time he got it, and he was on his way, leaving behind him an untouched lunch and $30.  Then I thought about it­—Papa was downtown on his bicycle.  He was at least half an hour away.  I needed someone immediately.  I called the police.
"My little boy is missing," I told the dispatcher.
"How old is he?"
"I don't know—20 months, 21 months, 22 months." 
"You don't know how old your son is?"  She sounded a little suspicious.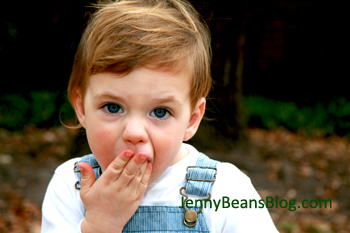 "It changes every month.  I can't keep up.  I'm hanging on by a frayed thread here, lady."
"What's his name?"
"Moose Bean."
"What?!"
She was starting to get on my nerves.
"MOOSE. BEAN. Just like it sounds.  Would you like me to spell it?"
In the meantime, Jax and I were unsuccessfully going through the same route that I'd been through two times before.  Outside, Jax screamed, "MOOOOOOOOOOOOOSE, MOOOOOOOOOOOOOSE, MOOOOOOOOOOOOOSE!" And I described to the dispatcher what Moose had been wearing.
Then we heard the neighbor's dog barking.  And then the faint sound of crying.  I couldn't see him.  I dropped the dispatcher on the ground and ran to the back of the yard.  There was Moose crying behind the garage.  He had somehow managed to get behind the fence and was trapped behind in a narrow opening between the garage and the neighbor's back fence.
I lifted up my Baby Bean and held him tight.  He'd scared the life out of me.  Then I yelled to Jax to pick up the phone and tell the dispatcher that we had found Moose.  He tried to but he had the phone upside down.  Then I called Papa and told him that he didn't have to rush.  Papa didn't even complain about the wasted lunch—he was just relieved that Moose had been found.
Back inside I sat down in the rocking chair with my baby and covered him with his blanket and rocked him to sleep.  Afterward I turned off the phone, exhaled and said a prayer of thanks.  Moose was safe.  Jax was safe.  Maison Bean was quiet.  Jax and I were going to take a nap on my bed. 
That's when the doorbell started ringing.  Hyacinth and Rooster raised enough hell to wake the dead.  I ran to the door, wrenched it open furiously and ran outside to find out who on earth would have the audacity to ring the Bean doorbell on a Saturday afternoon.
I must have looked pretty scary.
"Have you been drinking, Mrs. Bean?"
It was the police.