With the occasion of Moose's birthday, Papa once again broached the idea of a puppy for the boys.
"We've had this conversation before," I said.  "And the answer is still no."
Sensing defeat, Papa tried to bargain.  "A cat?"
"All I have to say about that is—LITTER BOX."
"A bird?"
"Are you out of your mind?"
"A hamster."
"You're asking me to have a rodent in Maison Bean?"
"It's not as bad as all of that," Papa said. "They are domesticated, you know."
"You may know it, but Rooster doesn't."
Rooster is a rat terrier and he once earned the name "killer" for a very brief period because he inadvertently committed murder when he caught up with a portly chipmunk.
Papa was determined that the boys would get a new pet and he was as relentless as a drunk without hooch.  His suggestions started to venture into the exotic and outlandish.
We finally agreed on a miniature turtle.  Just one, mind you.  I didn't want any turtle procreation going on.
Papa ordered it online and then he left town with Mimi.  They were going to Vegas.  The idea was hatched one evening over martinis.  It had been a particularly rough winter at Maison Bean.  Chemo treatments are hell and toe reconstructive surgery isn't exactly pleasant and a game of black jack or two and some shows sounded like a good way to relax.
I was glad to get rid of them.
I was in the kitchen making pizza dough when the FedEx man arrived with the turtle.
Sissy and Buzz, who were hanging out at Maison Bean, signed for the package.  (They live in a shoebox across town and Buzz has developed a disturbing attachment to my garage.)
"Papa must have ordered the wrong size aquarium," Sissy called from the living room.  "This crate is big."
And then while I was tossing my dough, I heard the disturbing commentary.
"Holy shit!"
"Mommy, we have a dinosaur!"
Rooster was barking his head off (Hyacinth was on kitchen duty with me), and Sissy was screaming.
And then Rooster came chasing it in the kitchen, except that it was no turtle.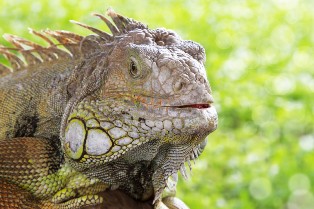 It was big—about 4 feet with a creepy-looking with a row of spines down its back and a long whip-like tail.  Some kind of prehistoric nasty thing.
I guess I tossed the cornmeal I was holding up in the air, and it was all over the kitchen.
The dogs had cornered the monster and it was hissing, and everybody was screaming.
I'm amazingly calm in tense situations.  I opened the back door, grabbed the broom and stood on the kitchen island from whence I shooed the hissing monster out the door.  Then I bolted it, and we had a debriefing.
Turns out the monster was an iganua.
I put the zoom on my camera and took a picture of it in the backyard and then texted it to Papa.
WTH?! 911!  Call asap.
Then I called Animal Control.
After about an hour, Papa texted back.
Turtles out of stock. Substituted reptiles. Started day off with bloodies. Ended up in chapel of love n p.m.  Honeymooning now.
The picture that accompanied the text showed Papa and Mimi looking very happy.  Papa was wearing his kilt. Mimi was wrapped in a feather boa looking quite glam.  Elvis was with them and two drag queens, who appeared to be wedding attendants, were smiling broadly.
"Sissy!" I yelled.  "Get out the tequila!"
Afterward
You do know it's le poisson d' Avril today, don't you?