by Jenny with assistance from Papa
Someone is beating on the back door. I look out the window. It's Papa.
Papa: Open up.
Me: Say please.
Papa: White Russian.
I open the door.
*******************
Moose is a little germ factory. I have his cold. Hyacinth and Rooster have his cold. Jax is holding out on us right now. And Papa, who is psychosomatic, has his cold.
At 3 a.m. Monday, Papa wakes up freezing. He has the chills. He calls me from his cell phone (the Bean intercom system) to bring him blankets.
I stumble up the stairs with blankets and discover that Moose has been playing with the thermostat.
We have been Moosed.
*******************
Hell hath no fury like a Moose in a dentist chair.
I don't think that sentence needs an explanation.
*******************
Me: Last night I was so tired that I couldn't wash the dishes. Papa had to do them.
Mimi: I hope you rewashed them.
Me: Why?
Mimi: Papa washes dishes like he's camping—he doesn't know what a dishrag is and he doesn't use soap—just his fingers and cold water.
And this is why I found myself cleaning out all of the cabinets and washing all of the dishes at Maison Bean on Sunday.
*******************
Moose is a walking contradiction. Despite my best efforts, he walks around like he's been rolling in dirt and leaves, and his curls are stuck together because he puts peanut butter fingers in them. But he likes a clean house.
He's so obsessed with Mimi's Electrolux that she has to hide it. When I pull out my Dyson, he pulls out his Fisher Price lawnmower and pretends he's vacuuming with me.*
The other night he spots a shredded paper towel on the floor courtesy of Rooster. Moose goes into the closet, pulls out a broom that's three times his height and a dustpan, somehow manages to sweep up the mess and throw it in the trash, and then he returns the broom and dustpan to their proper place.
All the while, Papa, who is comfortable in his slothfulness, watches in fascination.
*I think this is a genetic trait inherited from 1909.  Jax did the same thing when he was 2.
*******************
The inconsiderate numbskull outside the house beeping his car horn turns out to be Moose in the living room playing with car key remote.
*******************
Moose will never get lost—he leaves a trail of raises, toys, shoes, toilet paper and dirt wherever he goes.
*******************
When everything freezes in the refrigerator, it doesn't take a genius to figure out that a two-year-old is involved.
*******************
When Papa's alarm clock goes off at 2:26 a.m., he knows one or more of the little button pushers have been at work.
*******************
Finding a couch cushion in the garden or a roll of toilet paper in the bath tub is beginning to seem normal.
*******************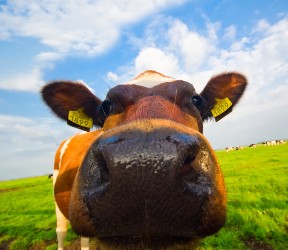 Because Maison Bean = Funny Farm.