Note: many moons ago when Mimi was still teaching school and I was in graduate school, I spent a year in Paris writing my thesis and teaching English to French college students. It was a year full of adventures and a visit from Mimi was no exception. Since I didn't have a post for this week, I am resurrecting a travel article I wrote way back then. I'll be back next week. Ά bientôt, Jenny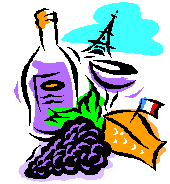 When Mimi comes to visit, problems are likely to ensue. Mimi is my mother and town these days is Paris.
Two very impractical women trying to be practical in a country that boasts wine, cheese, good shopping, and the Riviera will never succeed in this impractical goal to be practical.
When one is trying to be practical, the other is being impractical, and the other one, trying to be strong and practical, becomes weakened by the impractical one's zealous impracticalities; the impractical one, noting the weakened condition of the practical one, seizes the advantage and unmercifully goes in for the kill, destroying the virtuous aims of pragmatism, albeit, at its lowest level, and revels in a binge of impracticality. The practical one, now reconverted, enjoys the party too.
It is a vicious cycle.
So there we were after some heavy duty touring of Paris off to Saint Tropez—one of the most expensive places on the Riviera. I had won this round.
Saint Tropez is quaint and beautiful with delightful winding cobblestone paths, wisteria vines crawling along arbors and trellises, red Mediterranean tiled roofs, palm trees, and a craggy coastline of rocks along a sea that is truly azure blue. On the highest point at the edge of the town is a 16th century citadel, now a war museum. We were wandering around in this area when we heard this loud squawking noise. It couldn't be an owl—they don't squawk, they hoo.
We kept hearing it and trying to figure out where it was coming from. There I was, a graceful figure, crawling up rocky hills looking about, determined to find out what all of this squawking was about. Then I saw it in a tree—the biggest bird I'd ever seen. Its throat was bright blue, and it had unusually long plumes.
"A peacock," Mimi said.
And then we saw another and another and another. It seems that there are 28 of them living at the citadel and during the day, they all go off their own way into the village or wherever, but they all sleep at the citadel at night. One of them was rather stressed about something.  With all of that squawking going on, I imagine that he was the one getting dissed by his compatriots.  There he was in all of his fury with his feathers spread.
Besides bird watching in Saint Tropez, there's also some people watching to be done. In another month or so, you can do it at the beach where a strip of sand is at a premium, and the beach will be crowded with girls in their monokinis (a thong only) and guys in their leave-nothing-to-the-imagination costumes. But for now people watching was down at the port along the quay where there's a strip of cafés; between the cafés and the quay is a road where anything goes. I mean anything. I know because we spent a couple of hours at a café drinking café crème and watching.
A girl in an orange bra and panties with a short sheer orange baby-doll-nightgown-looking thing. A skinny 50-something woman with long bleached blond hair and large sunglasses over her leathery tan wearing a skimpy little blouse, and a pair of body contouring hot pink spandex (I don't think this one was wearing panties), and a matching pair of four-inch shiny stilettos.
The cars are as far out as the people—a yellow Lambrigini, two Ferarris, a Daimler, a Range Rover, a convertible Jag, a Porsche or two, a plethora of Mercedes and BMWs, and the odd and out-of-place dirty Renault. These people cruise around, seeing and being seen. I was fascinated, and then there was a guy from Marietta, Georgia, of all places, with saxophone, trying to raise some coins from the tourists. And in this already lively place, our Georgia guy added a touch of good jazz to this happening hamlet.
All of that hiking about and alien watching deserved a little fortification. We had a dinner credit yet to be used. Papa had emailed that we could have "a semi-serious meal, two bottles of wine max" on his credit card, and we were still busy interpreting that cryptic message.
In such cases, I always employ the Don't Ask, He Won't Tell policy. If I ask him how much we can spend, he will inevitably tell me something less than what I think is appropriate, so I never ask, and when he gets the tab, he's always mad, and starts ranting and raving across cyberspace. Without compunction, I delete the email, and he soon gets over it.
"I would imagine that two people having a serious meal in Paris at, say, Maxim's, could spend $800," I reasoned. "And what about cocktails? He didn't give us a limit on that?"
We decided to give it our best, economically "semi-serious" effort. All dolled up in our little black dresses, we looked both ways to make sure that nobody was looking before we emerged from our hotel. (In an uncommonly practical moment, I had found the only one-star hotel in all of Saint Tropez.)
At the charming (conservative by St. Tropez standards, expensive by Jenny standards) Restaurant Joseph, we had a fabulous dinner. I decided to begin with a glass of champagne. The restaurant was cozy with dim lighting and a flock of attentive waiters ready to attend to our slightest need. Our entrées (an entrée is actually an appetizer) were a divine crab-stuffed artichoke and foie gras. Foie gras is duck or goose liver and one of those luxuries about which the French are truly passionate.
For the plat principal (the main course), Mimi had grilled gambas (these are shrimp the size of crawfish) and I had a white fish with basil and an elegant wine sauce. There was also a yummy bottle of Margaux-something-or-other in there. Then there was cheese and this chocolate confection creation and more champagne, except that Mimi decided to be practical and have coffee. Even so, it was a splendid, as well as gastronomically satisfying, evening. But it wasn't economical.
The Côte d'Azur is breath-taking and we have now returned from a wonderful vacation, and somehow Mimi made it back home with an extra suitcase of my winter junk and a boat-load of pottery from Provence. Now it's back to practicalities, except that there's a long pause between each sentence that I write on my thesis when I give myself a break and contemplate my other travels.