I'm an easily distracted If-You-Give-A-Mouse-A-Cookie kind of person.  I start cleaning up the kitchen, find a blanket on the floor that I take to Moose's room where I see some dirty clothes on the floor that I take to the washing machine.  There I find clean towels that need to be put in the bathroom.  Right smack in the middle of the bathroom is a Lego tower that Jax built….
Eventually, I get tired of the whole housecleaning gig and give up to break up a fight between Jax and Moose.  Sissy and Mimi come over and finish cleaning my house.  And that's how blogging's been lately, except that Sissy and Mimi don't blog, which is why it hasn't gotten done.  Do you see a pattern of reemerging going on here?
Now it's going on a month since I've blogged and I've compiled a list of reasons to justify my absence.  I just hope that I can get them all posted.
Reason #1:  I've been trying to identify a rare species of hummingbirds
It was dusk and I was sitting on the back porch stoop consoling Lillianna over the phone.  Lilli's beloved companion of 15 years had passed away, and she was upset.
"Hey," I said, "Peetie's up there in doggie heaven chasing squirrels and squeaky balls.  He's having steak for breakfast and he's swimming and there are cute poodles to flirt with…."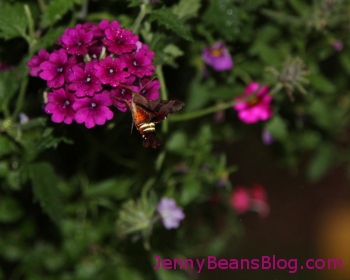 Then in the middle of my consoling soliloquy, I noticed a very tiny thing buzzing around my flowers, flitting from one bloom to another.  It had two yellow stripes and its wings were moving so fast, they were a blur.
It had to be some rare kind of hummingbird.
"Um, Lilli, I'm sorry, but I've gotta go," I said, running inside to grab my camera.
"What's wrong, Bean?"
"Gotta take a picture of a bird.  Bye."
After I took the picture, I ran inside and Googled hummingbird with two yellow stripes.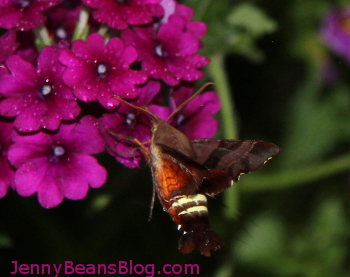 Google said it was a hummingbird MOTH.
It couldn't be.  Google was obviously mistaken.
I downloaded my pictures.  I blew up my humingbird to 500 percent, and there it was all insecty looking and gross.
Geez, it looked better blurry.
Moral of the story:  if your friend's dog has just died, do not get off the phone with her to take a picture of a bird.  It's probably an insect.  Google doesn't lie.
Up next Reason #2:  Moose offends Costco food server
SOS:  why is the new version of WordPress hyperlinking to irrelevant key words?!