Bean Beds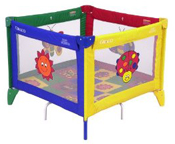 What would mothers do without the Graco Pac N Play?  If you have a baby, mark my words:  YOU.  NEED.  ONE.    They're portable, and they're convenient.  It's a bed and a playpen in one.  Fold it up, toss it in the car, and go.  There are also other versions with mobiles, changing stations, and bassinets, a great option for grandmothers who want a simple-but-not-permanent-furniture solution for a visiting baby.

What first time mom doesn't get excited about decorating the nursery?  But if you're having a boy, your options are limited.  Designers cater to mothers of girls.  Fortunately after a lot of searching, I found the designer SoZo.  What cool stuff!  If you can't find what you're looking for on Amazon, do a Google search. 
Fisher-Price has been in business for eight decades and their products are still a good buy, and the award-winning Fisher-Price Rainforest Mobile is no exception, delighting babies with the melodies of Bach, Beethoven and Mozart or the rainforest.  It's battery-operated and has a remote control.

When Jax started climbing out of his crib (which, incidentally isn't listed here because there are much better cribs out there than the one I bought at a consignment store), I bought the Safety 1st Bed Rail.  Be warned:  it's a bit of a PIA to assemble, and you must read the instructions to do it, BUT it does the trick, and prevents the little bugger from rolling out of the bed.