Life at Maison Bean has been even more outrageous than usual.  It all began with Moose, who got himself expelled from the Wee School for conduct unbecoming a toddler. 
Specifically, he said "shit."  A lot.
Mimi blamed it on Papa, and Papa blamed it on me.  I have a keen sense of self-preservation, so I did not cast any pebbles at Mimi, but for all of her loftiness she has been known to say the offending word on occasion.
While having a foul-mouthed toddler who has just been kicked out of preschool may sound like a big deal, other things were brewing at Maison Bean that distracted me.
Sylvia and Papa broke up.  Sylvia works a lot, and she works strange hours.  Imagine her surprise when she was out after work one night walking her hound only to discover Papa coming out of the Widow Greenberg's house looking somewhat disheveled and more than a little unsteady on his feet. 
The Widow Greenberg is the neighborhood hussy, and she was a hussy before Mr. Greenberg died.  I think she put him into an early grave.  She's a heavily rouged woman with false eyelashes and a flamboyant wardrobe.  She drives around in lavender Lincoln Town Car and sells makeup door to door.  She makes a killing in sales because all of the neighbors invite her in hoping she'll spill the latest dirt.
Sylvia was incensed.  Personally, I think Sylvia should go into makeup sales and offer a tell-all to anyone who buys $100 worth of war paint.  But she hasn't asked me.  In fact, she's not talking to any of us.  None of the neighbors are.
Papa's been moping around for days now. 
"If you lie down with dogs, Papa, you get fleas."
This, of course, doesn't apply to Hyacinth and me.  Hyacinth is a pedigreed bitch, and besides that, she gets a monthly dose of the hideously expensive Comfortis, so fleas don't bother us.
"It's not my fault," Papa lamented.  "That woman lured me into her den with martinis and took advantage of me."
Humph.
With Sylvia out of the picture and Papa under foot, life became a little stressful.  And then my employer made the unconscionable mistake of yelling at me.  And, of course, I yelled back at him because I am a Bean after all, and I was jacked up on hormones.
Then he tried to get me fired for insubordination, and really I deserved it, but I'm a state employee, and I mentioned "hostile work environment" and "pregnancy" in the mediation we had with HR, and they decided not to touch this nut job with a 10-foot pole, so I still have my job and I've taken a week to cool off and figure out what we're going to do.
Remember when I mentioned transferring only one blastocyst last week in my post on Moose's birthday?  I had two of those puppies leftover in the freezer at my doctor's office that I had to pay yearly storage fees on.  I'd been lying awake nights wondering what I should do with them and finally decided to go ahead with a frozen embryo transfer cycle (that's an FET for those of you who like acronyms).
Survival rates on frozen embryos are about 70 percent and given my advanced maternal age, my chances of getting pregnant were pretty slim, so unlike the Moose cycle, I transferred both. 
Now I'm pregnant again.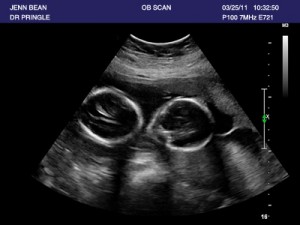 With twins.
So I'm on the wagon for about seven and a half more months and I've been manically cleaning the house and obsessing about details that I hadn't given any forethought to when I got myself in this state.
Maison Bean is going to be cramped.  I need a nanny.  And there's simply not enough room in the Honda for all of those little Beans.  I guess I'm going to have to buy a station wagon because I just don't see myself in a minivan.
Pretty heavy stuff, huh?
On the bright side of things:  today is my favorite holiday.  The French call it le poisson d'Avril.  In American that means April Fools.
Note from Jenny
I read somewhere that only 3-4 percent of all people who read blogs comment.  If that's true and if Google Analytics is telling the truth, there are a helluva lot of you who don't comment.
That's okay.  Although I love to get them, I'm not hung-up on comments… except for today.
I take great pride in my April Fools successes.  If you got hooked today (a poisson is a fish), please tell me.  It's a small thing, but every time I reel in someone, it makes me just a little happier.  You don't even have to use your real name.  You can say you're Phyllis Diller, Engelbert Humperdinck or Mother Teresa.   I won't believe you, but I'll be glad you commented. 😉
And, finally, because of the sheer number of people who did not read the line about this being an April Fool's post, which is now bold and red, I had to write a follow up:  April Fools Gone Wild.