Rooster Bean entered into eternal rest this morning.  It was his time, and Papa couldn't take him, and I volunteered.  Before we left for the vet, I gave Rooster half a valium and I took a Xanax.  The vet was really compassionate, and despite the fact that I was wearing my old plaid pajama bottoms and a sweatshirt, he only looked at me funny when I asked if we should administer last rites.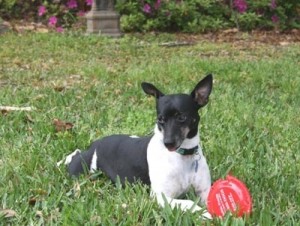 "Is Rooster Catholic?" he asked.
"Nah.  I think he's a heathen.  It just seems like something we should do."
So then I asked Rooster if he had anything to confess, and Rooster looked at me pitifully and admitted that he used to take Hyacinth's bone just to yank her chain, and that when I wasn't home, he used to sit on my newly upholstered couch where the sun shone in the picture window.
I told him he was forgiven and then said a little prayer, and the kindly vet gave him a sedative, and when the sedative had taken effect, I left to get a cup of coffee, and when I returned Rooster was sealed up in makeshift cardboard coffin with his squeaky ball and his John Deere blanket.  Then I took him home and buried him in the hole that Papa had dug on Tuesday.  He's out in the backyard behind the old oak tree and the garage, and I put a pot of pansies on his grave.
Rooster was born in a chicken coop with a passel of other puppies, and as the story goes, Papa looked at Rooster and thought that there was something about him that needed taking care of, so Papa picked him up and took him home and told him that he would always take care of him.
Rooster was born with only one brain cell, which we named Ping. Ping helped to keep Rooster very focused. Rooster's first priority was always the ball. It was Rooster's duty to see that the ball got its exercise, and your arm might be about to fall off and Rooster might be one step away from utter exhaustion, but that ball was gonna get its exercise. When we finally had enough, we would try to hide the ball somewhere like the top of the refrigerator and then Rooster would go bark at the refrigerator for hours.
Sometimes we wondered if Ping didn't just wonder off somewhere for happy hour and leave Rooster on autopilot. In the early years when Papa first moved to Maison Bean, we used to make margaritas and invent stories about Ping's secret life…. In 2006, when Bode Miller bombed in the Olympics, it was because Ping jumped on Bode and went on a bender.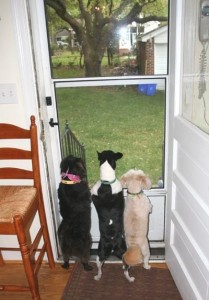 Rooster's second order of duty was to keep the neighborhood safe from elephants, and to that end, he was always willing to get in a car and go on patrol. As a puppy that even meant with people he didn't know very well… the mailman, the UPS man, Jehovah's witnesses…. At the time, Papa lived in the country—we're talking the sticks… in a dry county in rural Alabama—and Rooster would just hop in the car and they wouldn't even notice that he was in the car until they'd got halfway down that long country road and then they'd have to turn around and take Rooster back to Papa's house.
And then Papa got a divorce and moved to Maison Bean with Rooster and a mutt called Little Man (who was later reunited with his mother), so it was Hyacinth and me with Papa and his two dogs, and you know, I never did see an elephant in the neighborhood after they moved in.
Rooster was very sensitive. Most people thought he was nervous, but he was actually busy sensing things. He sensed fire, hurricanes, seismic activity, and on one occasion, a refrigerator motor that was overheating because some little miscreant had left the door ajar. We have a gas oven, and you couldn't turn it on without that dog having an attack of nerves. One year there was a hurricane out in the Atlantic and then an earthquake in the Southeast, and Rooster was such a wreck that Papa had to put him on valium.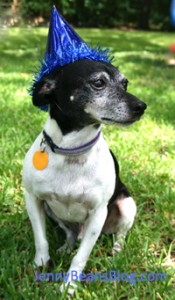 Rooster was a very particular little dog. He liked to be in the sunshine, and if he wasn't in the sunshine, he was wearing a sweater (he had an extensive wardrobe) or burrowed deep in a pile of blankets. He was like a cat, kind of finicky, about what he ate—Papa said he just had excellent table manners. He loved chasing squirrels, but it was all just for show—the squirrels just ran up the trees and laughed and kept reproducing. And Rooster liked to chase Moose because Moose never let go of the ball so it was the next best thing.
Rooster lived a very good life. He was happy and he was loved and he will be missed. And we know that while our hearts our heavy, he is in a very special place where the sun shines all the time and butterflies dance about and birds sing and Rooster's very own guardian angel sits throwing a ball.