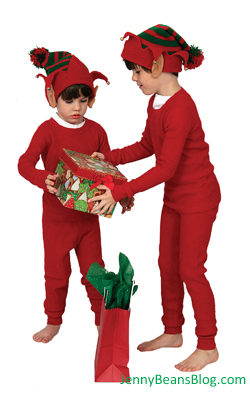 It's been a crazy December. My Christmas tree had scoliosis–Sissy and Buzz had to jury-rig it. Hyacinth has really started to get old. It's like when old people who can't hear talk loud, except Hyacinth barks loud.
Jax was named at Terrific Kid at school. He's learning to read and burning up the basketball court. Moose is … well, he's Moose, and often, he's naked and far too comfortable that way
Papa went back for his one-year-after-being-diagnosed-with-cancer test. Two weeks before the test he was a wreck.
"I've got this strange swelling in my abdomen," he said.
I ignored him. I knew Papa was okay. And I was right. Turns out the swelling was FAT.
Today, in the midst of my Christmas preparations, Papa interrupted, "Who am I talking to?"
"Huh?" I asked. "You're talking to me."
"Jenny?"
"Yeah, Jenny."
"Jenny, do you want to ride the ElliptiGO today while I watch the little Beans?" (The ElliptiGO is Papa's fancy bike. It's so fancy there's not even a seat on which to rest your derriere.)
"What the hell are you talking about? Can't you see I'm busy?"
At which point, Papa put his phone to his ear and said, "Sissy, you were talking to wine last night."
Tomorrow, a Furby will appear at Maison Bean. A gift from Mimi. Sissy introduced me to it. After the introductions, we locked it back it in my closet.  It continued to talk to itself.
I'm scared.
"Why would you do that to me?" I asked Mimi.
Things might get ugly…. Stay tuned. In the meantime, have a very merry Christmas.
xoxo, Jenny
UPDATE, Christmas evening:  Furby is dead.  He didn't last a day with Moose
UPDATE ENCORE:  The world's worst loser and the world's most obnoxious winner–that would be Jax–just beat me three times in Uno.