Moose eats a lot of fruit—strawberries, blueberries, raspberries, blackberries, bananas and apples.
Moose is regular.
Last week, Moose was more than a little regular. The next day Jax was decidedly regular and then the next day Moose was exceedingly regular.
I'm trying to be delicate.
When Jax decided that the apple juice tasted funny, Papa and I investigated. I don't care for apple juice, but I took a swig and was surprised to find that it tasted quite nice, like maybe it had fermented a little. We had discovered the root of the gastro distress, or so we thought, and so we dispensed with the Bean Family Emergency Plan which states that all contagious blanket toters are to be quarantined immediately.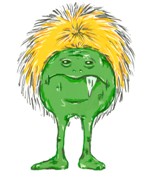 All was well on Friday evening. I had my chardonnay and ice cream after the little Beans went to bed.  Jax crawled in the bed with me around midnight while Hyacinth slumbered at my feet sawing sequoia logs. Despite the cramped quarters and the noise, I dosed peacefully… until the mutant super bug came out of nowhere and jumped on me.
It was awful, and after I had retched until I thought I could retch no longer, I crawled back in the bed.
My skin was sticky, and a vile taste lingered in my mouth. I couldn't brush my teeth because I would hurl again, and I damn well couldn't drink anything. My esophagus felt like it had been burned by bleach, and with the room spinning, Hyacinth snores seemed to get louder and louder. Jax had taken over more than half the bed, and then, going from hell to sheer hell, I caught a song worm.
The. Worst. Night. Of. My. Life.
In the morning, the little Beans were all jubilant and jumping about, and Papa was yelling for me to get up.
I couldn't move. I couldn't talk.
And then Moose bounced on me, and I screamed, and then I crawled out of bed, exhausted and shaky, and managed to park Jax in front of the iPad and lock Moose in his room.
"A little too much vino last night, Jenny?" Papa asked.
I shot him the bird.
After a couple of hours of sleep and some gingerale, I came slowly back to life.
Then I heard it—Papa tossing cookies in the bathroom. The nasty super bug had gotten him too.
Note
I know what you're thinking, and the answer is no and no. No, I did not ask Papa if he had too many sangrias. And, no, I did not pass the song worm along to him, although the idea did occur to me.