The Bean Box
These are just a few of our favorite toys.  Some I expected to be favorites.  Others surprised me.  Then there were the things I was excited about, that I paid good money for that didn't interest them at all (not listed here).  And, of course, what appeals to one kid, doesn't necessarily appeal to another [read:  please don't beat me up if you buy one of these and your kid doesn't like it]. 

When I was pregnant with Moose, a goody package arrived in the mail from an old college friend.  In it I found a jar of gourmet vegetable soup, refridgerator magnet gears for Jax (even if you don't have kids, this is a great toy!), and the Neurosmith Color and Shape Ball (manufacturer's recommended age 1-3) for the unborn Baby Bean, who at 9-months of age delightfully thought it was a big rolling pillow to roll around on.  I've never seen a baby enjoy a toy so much. It was the best goody package I ever received.

I don't know who loved the Lamaze Stack & Sping Rings most–me or the boys.  What a happy toy.  Battery operated for 9 months and up, it spins and giggles while developing hand-eye coordination.  A Bean thumbs up!

The LeapFrog Walker was a huge hit with Jax.  Uncle Joe bought it for him when he started cruising the furniture, and he loved it.  After he started running, he still played with it, zooming around the house like a little demon behind wheels.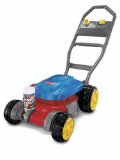 The Fisher-Price Bubble Mower is a cool toy for kids ages 1 to 5.  Unlike its real counterpart that sprays grass blades, this delightful toy blows bubbles.  (If you use it inside, like we sometimes do, you'll want to hide the bubbles, unless you're trying to clean the floor.)  It features a start key and a lever for speed control, and if you don't have a toy vacuum cleaner, it can serve that purpose, and if you have a little girl, it comes in pink.

The Radio Flyer Inchworm for 24 months to 5 years is a classic favorite.  Jax has torn up the roads in the neighborhood on it, and I expect Moose to follow.  This was another thoughtful gift from Uncle Joe.  Note to reader:  assemble before your child sees the box, because assembly is more difficult with a bouncing 2-year-old in the background.

Every child should have a little Radio Flyer Red Wagon, and I'll never see one again without conjuring up a memory of a beautiful spring day when a determined 3.5 year-old Jax pulled around a delighted Moose in one.

At our house, we love puzzles, and the ImagiPLAY Butterfly puzzle for ages 3 and up is a clever way to practice ABCs and practice problem-solving skills…. And speaking of puzzles, check out Melissa & Doug for other clever puzzles and toys.

Even though we talked about it for months, Jax was less than thrilled to be getting a baby brother.  The unborn Baby Bean and I decided that a present was in order for Jax on homecoming day–a big present.  The Mega Bloks CAT dump truck was the cat's meow.  Jax loves it!