Dear PETA,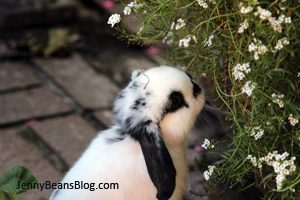 My name is Flop Bean.  It was originally Flip Bean until the woman who adopted me—Crazy Jenny—decided that my coloring was unsuitable for the name "Flip," so she changed it to "Flop," and my brother, who was "Flop," became "Flip"—Flip Wilson Bean to be exact.
Color discrimination was just the beginning of the indignities I have had to endure as a member of the Bean family.
Crazy Jenny, hereinafter called "CJ," is the mother to two boys—a 6-year-old yammering soccer player and a 4-year-old demon child who likes to run around au naturel.  My chief complaint is with the demon child, hereinafter called "DC."  Imagine my horror when he carried me up the ladder of the swingset and sent me flying down the slide.
I was so traumatized that I hid under the Club House for two hours.
Then just last weekend despite being CJ's admonitions and despite the fact that he'd spent a lengthy interlude in time-out, the DC carried me up another ladder.  This ladder was to the loft of the Club House where I almost hopped out of a window to an untimely demise.
Fortunately, CJ sensed something was amiss and came charging in before I fell to my death.  I went into hiding again for another two hours.
The 6-year-old with the soccer balls that fly out of nowhere is also a danger to my existence.  I have just narrowly hopped out of the path of one of those missiles.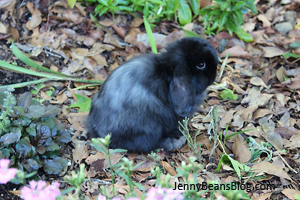 Other than that, life is pretty grand.  There's an old blind dog who ignores us—I don't even think she know we're here.  She suffers from senility and often barks to herself.  CJ's father lives with us too.  The Old Man, hereinafter called "OM," is always slipping us treats like strawberry tops.  We lounge and graze in the backyard every afternoon unless it's raining.  Our hutch is kept very tidy.  CJ has a poop fetish.  "Bunny poop," she says, "is uber manure."
CJ strikes me as one of those whack jobs who believes everything she reads because she runs around manically sprinkling poop on her tomatoes and flowers.  Other than that she's pretty chilled out and didn't even have fit when she caught Flop—I mean Flip—sitting in a pot of verbena pretty as you please munching on her flowers.
And every night, we go upstairs into the old man's room with CJ and the OM.  CJ and the OM sit in easy chairs in front of the TV, each holding a folded beach towel and one of us.  The beach towel is because Flop—I mean Flip—and I have been known to demonstrate passive aggressive tendencies after encounters with the DC.  The OM is usually the recipient.  It's quite a spectacle when it happens and sometimes we do it now just for kicks.  The OM is very theatrical, jumping up and down, like a big rabbit himself, while simultaneously yelling obscenities.  And CJ gets so tickled that she snorts wine and laughs hysterically.
Most of the time, things are chilled out and the OM rubs our ears.  He likes us so much that he read Dummies for Bunnies in an afternoon.  (I think he skipped all of the parts about why you shouldn't get a rabbit.)
It's not a dog's life, but it's not a bad life either.  My reason for writing is this:  Can you tell me if there's some law that declares it inhumane to put chicken wire around the foundation of a Club House to prevent a poor, defenseless bunny from taking a nap—I mean hiding.   That's what CJ is planning to do tomorrow.
Most respectfully,
Flip—I mean Flop—Bean